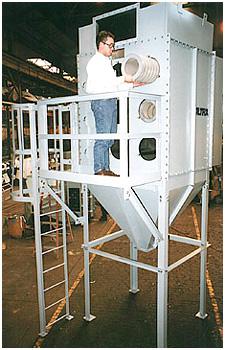 The "Ultra-Flo" UHC and UVC Cartridge Collectors are the perfect solution for your light loading applications for a variety of in plant air quality problems.
Compact design utilizes standard 12-3/4" diameter cartridges to offer more square feet of filter area per cubic foot of collector space. The modular design allows for multiple arrangements to handle airflows from 500 to 25,000 CFM.
Rugged high efficiency cartridge elements in a variety of media types offers efficiency to 99.99%.
Rugged 12 ga. construction stiffened for up to 20" W.C. with 7 ga. tube sheet for added strength and parallel cartridge alignment.
Specialized inlet with diffusion baffle provides for even air flow distribution resulting in the reduction of turbulence, re-entrainment and abrasion with lower energy usage.
Easy access to cartridges simplifies maintenance.
Solid state sequential timer housed in a NEMA 4 enclosure.
Available as a bin vent or as a stand alone collector with hopper.